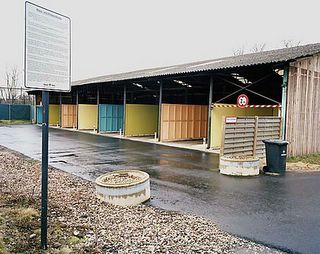 A couple of months ago I ran a second exciting photo-quiz, in which you were asked to guess the function or purpose of the strange building pictured above.
In an unprecedented wave of interest, I had two entrants (a massive 100% increase on the number of entrants for my previous Christmas Quiz). The two guesses were: 1. 'A garage for the Rainbow Alliance. No, an abbatoir run by Mpntessori schoolteachers. No a.. fuck knows. Who cares?' and 2. 'A chicken factory. Run by acidheads.' Both entrants were posted by people called Anonymous.
And the results? Sad to say, neither Anonymous nor Anonymous were anywhere near correct, so neither of them have won the marvellous prize, which was a flippant and dismissive namecheck in my blog.
In fact, the above picture shows an unusual kind of garage in a commercial sex 'tolerance zone'. The zone is called Geestmundestrasse, and it was specially built near Cologne, Germany, a few years ago. The zone consists of a single lonely cul de sac. Along this circular roadside can be found prostitutes of all shapes and sizes, sitting on metal chairs under bus-stops. A few toilets, a sitting room for the prostitutes, some CCTV cameras, and the garage above, complete the bizarre scene.
The design of this 'garage' is curious. The idea is that punters who come by car pull up in each garage bay. Then the whores climb in through the car passenger door, so as to have sex in the car. Why do the whores use the passenger door? Because the garage bays are specifically designed to be too small - so the driverside door cannot actually be opened. This hopefully prevents the drivers from getting out and raping or brutalising the whores. Moreover, at the back of each bay is a kind of prostitutes' catflap - where the girls can run away if they are being menaced.
I have to say, this tolerance zone, surrounded by green nylon fencing, littered with blooded tissues and syringes, stuck out in the post-industrial wastes, staffed by drunken angry trollops, and patrolled by furtive Turkish lorry drivers looking for a 5 euro shag, was one of the most depressing places I have ever been in my life. And that's saying something, as I've been to Legoland in Denmark, out of season.
Another photo quiz soon.